Tucson is a wonderful city with a lot to offer visitors who want to discover it. It is surrounded by breathtaking landscape despite being located in the sweltering Sonoran Desert with majestic mountain ranges rising close. Both locals and visitors may enjoy the many outdoor activities and other active attractions Tucson has to offer.
The second-largest city in the state and the location of the University of Arizona boasts a vibrant yet relaxed vibe, as well as a strong arts and culture scene for you to explore. It also includes lovely botanical gardens and old neighborhoods with lots of Wild West-related sites and tourist attractions.
Best Places to Visit in Tucson Arizona
Utilize our list of Tucson's top attractions and activities to decide where to go.
1. The Arizona-Sonora Desert Museum
The Arizona-Sonora Desert Museum provides a close-up view of the desert surroundings of Tucson. This museum is a great place for a family outing because it combines a zoo, a natural history museum, and a botanical garden.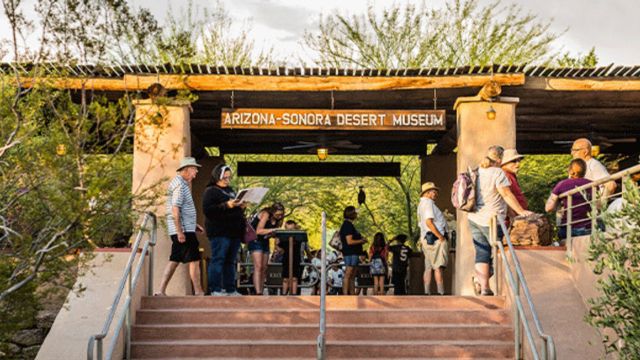 Some endangered species, such as the Mexican wolf, thick-billed parrot, ocelot, margay, jaguarundi, desert pupfish, Sonora chub, bonytail chub, razorback sucker, and Gila topminnow, are shown in exhibits among other living Sonoran Desert native animals and flora.
2. Travel the scenic byway of Mount Lemmon
Take the opportunity to travel the Mount Lemmon Scenic Byway if you want to get away from the city and enjoy a magnificent trip. One of the top things to do in the Tucson area is this trip, which begins about 15 miles outside of Tucson.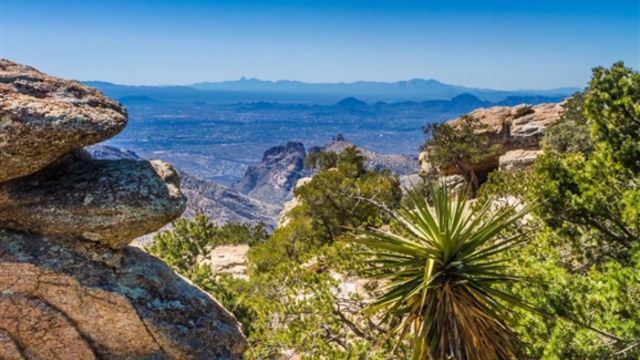 On the Catalina Highway, a 27-mile one-way road that winds its way up the Santa Catalina Range, you can quickly experience a number of very different ecologies. Additionally, it offers some of the most breathtaking views of the valleys and mountains in the area.
3. Pima Air & Space Museum
With more than 400 aircraft and spacecraft, the Pima Air and Space Museum is the biggest privately funded air museum in the world.
See More:
The collection comprises both classic and cutting-edge models of airplanes. John F. Kennedy's presidential aircraft and a replica of a Wright Brothers Flyer from 1903 are among the featured attractions.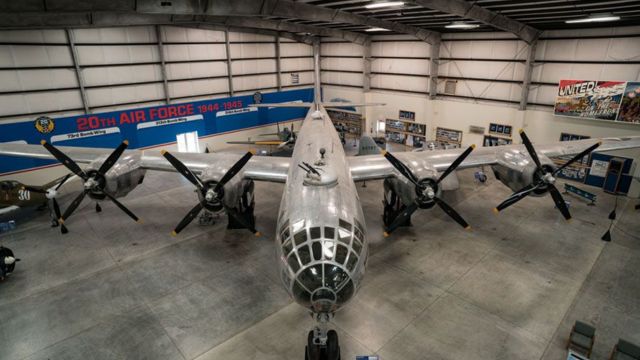 A Boeing 787 Dreamliner and the Orbis DC 10 Flying Eye Hospital are two of the most recent additions. The museum is home to over 125,000 flight-related artifacts, including a moon rock, in addition to the aircraft.
4. Visit Saguaro National Park
East and west of Tucson, Saguaro National Park provides a convenient opportunity to view and enjoy the Sonoran Desert. The iconic saguaro cactus, the tallest species in North America, may be seen here.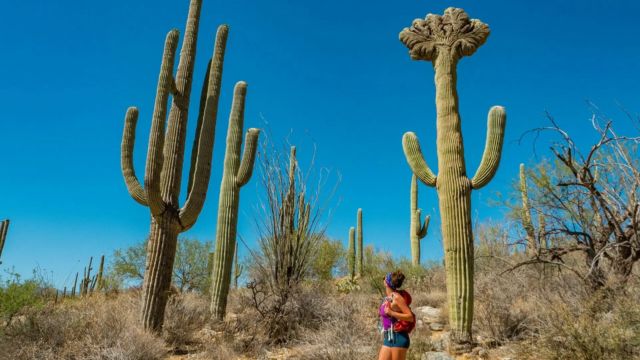 The park has hiking routes that provide excellent possibilities to see wildlife. Gila woodpeckers, cactus wrens, desert tortoises, jackrabbits, and Gila monsters (lizards) are a few of the mammals and reptiles that make the desert their home.
5. San Xavier del Bac Mission
The San Xavier del Bac mission station, often known as the "White Dove of the Desert," was founded by Spanish Jesuits in 1770 and is located southwest of Tucson.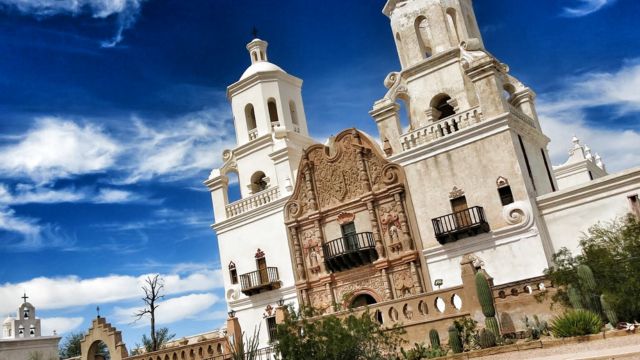 The mission buildings are excellent examples of colonial Baroque architecture, especially the elaborately decorated church. The Tohono O'odham Indians continue to use it as a place of worship.
Although admission is free, donations are welcome to help with the continuing restoration. The historic church and its grounds are open for visitors to explore at their convenience.
6. Wander the Tucson Mountain Park Trails
The Arizona-Sonora Desert Museum is located in Tucson Mountain Park, so visiting both places will give you the chance to see and learn about this unique desert terrain. Just west of Tucson, the park spans around 20,000 acres of Sonoran Desert terrain. Although there is a vast network of trails for horseback riding, biking, and hiking, many visitors come here just to see the museum and take in the sunsets.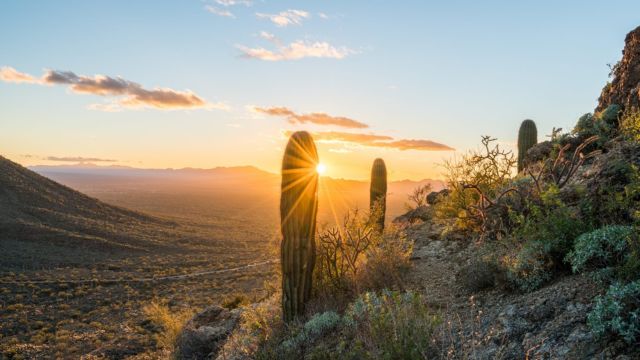 You may easily combine a visit to both places because Tucson Mountain Park borders the western portion of Saguaro National Park. The park is home to a variety of animals, including bobcats and mountain lions, however, some of them prefer to hang out in the most isolated sections.
7. Historic District of El Presidio
The El Presidio Historic District, one of the earliest inhabited areas in the USA, is home to centuries of history.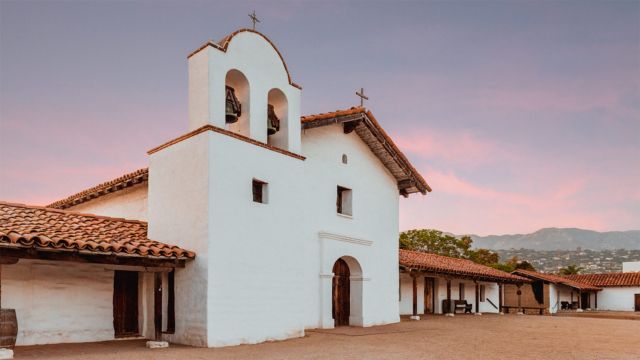 The region was formerly occupied by the Hohokam tribe of native Americans, and in 1775 it was chosen as the location of a Spanish military fort that would later become Tucson. Today's architecture is a fusion of Spanish-Mexican, Anglo-American, and adobe residences that have been immaculately preserved.
8. Take Advantage of Tucson's Top Hiking Trails
Tucson is a terrific place to lace up your hiking boots and hit the trails because of the mountains and stunning Sonoran Desert scenery.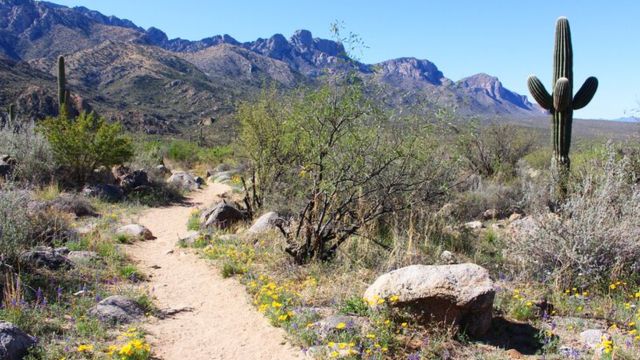 You may find paths for all skill levels and walks to fit your mood, whether you're searching for a strenuous ascent to the summit of a mountain or a straightforward stroll through cactus to see birds and other species.
See More:
In Tucson, spring is the best season for hiking since the wildflowers are in bloom and the desert turns a brilliant green.
9. Visit Catalina State Park to hike, bike, or camp
The desert part of Catalina State Park, located just north of Tucson, has picnic spots as well as excellent hiking, mountain biking, and equestrian paths.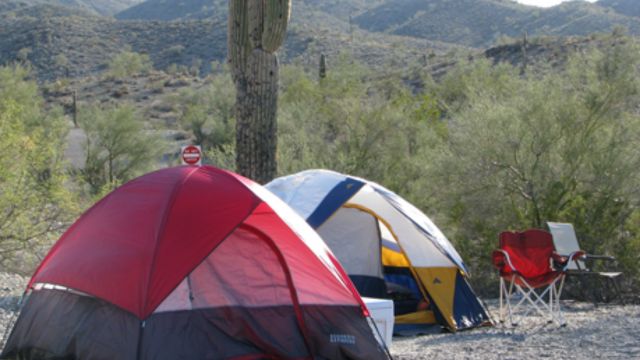 The 10.8-mile Sutherland Trail, which may be done in full or in part, is one of the best walks in the park. There's a fair possibility you'll see some wildlife. Some of the top camping in the Tucson region may be found in this park.
10. Tohono Chul
The Tohono Chul botanical gardens are definitely worth visiting even though they are less well known than some of the other gardens and institutions in Tucson.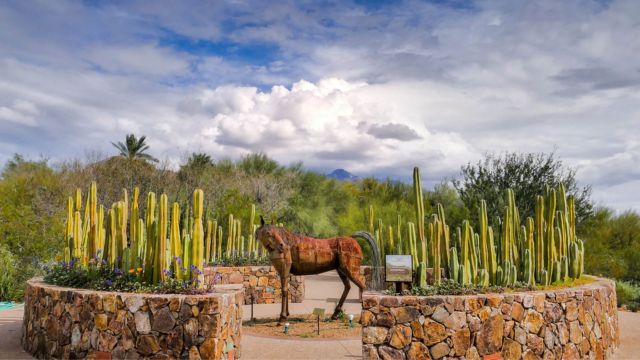 A beautiful collection of Sonoran desert plants is dispersed over 49 acres. There are more than 500 various kinds on display. The Cereus plant, which only blooms at night, is one of the attractions.
Conclusion
Tucson, known as the "City of Sunshine," has a nice selection of cultural and outdoor attractions to keep tourists occupied, but travelers and snowbirds are mostly drawn to the city because of its warm, dry environment. Sunbathing has its own attraction, as does golfing in the winter or relaxing by the pool at one of Tucson's five-star hotels.
The city is home to fascinating museums, historic locations, fantastic eating, and terrific shopping. For those interested in outdoor activities, the nearby mountains and desert offer a playground with lovely parks, fantastic hiking and bike routes, camping, and some amazing scenic drives.