In New York City, December means lavish Christmas trees, amazing light shows, and festive marketplaces. It also entails skating beneath a starry sky, gazing at the opulent window displays down Fifth Avenue, and ringing in the New Year in Times Square with countless other people from all over the world.
Start with these festive activities that will put you in the holiday spirit right away to uncover New York City's Christmas enchantment.
Best Places to Visit in New York in December
1. Attend the Rockefeller Center Tree Lighting Ceremony
December is a lovely time to visit the Rockefeller Center because of its magnificent ornaments, renowned ice skating rink, and the city's most famous Christmas tree.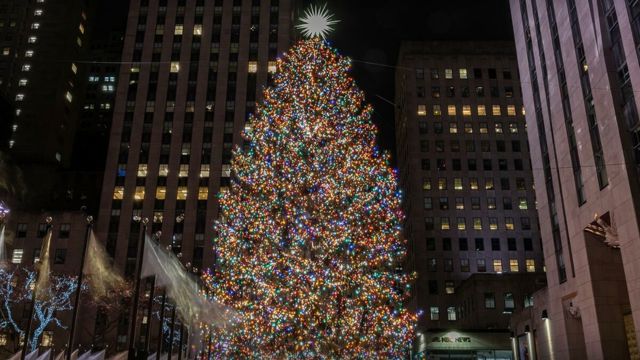 The Tree Lighting Ceremony is a New York holiday tradition that has been going on for more than 88 years. The event typically includes the renowned Radio City Rockettes in addition to the lighting ceremony and dozens of live performances by popular bands and singers.
2. Skate in Central Park on ice
Visit Wollman Rink to experience filmic New York. One of the most romantic and well-liked winter sights in the city is this frozen sanctuary in the middle of Central Park, which has been featured in films like Love Story and Serendipity.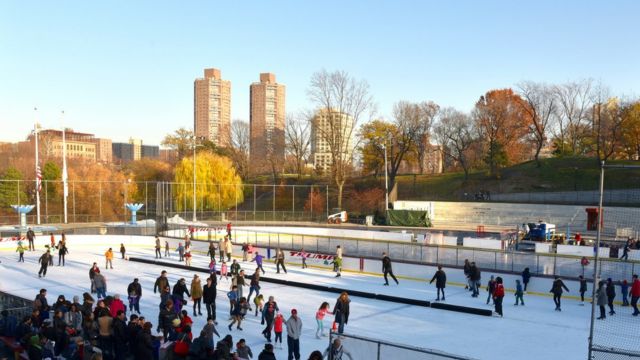 A great location to enjoy ice skating under the stars with your special someone while admiring the glittering cityscapes surrounding the rink!
3. Shop the Fifth Avenue windows
A stroll down Fifth Avenue in December will put you in the holiday mood, from Bloomingdale's to Macy's. The magnificently decorated windows of Manhattan's top department shops are always unveiled with a big spectacle and are typically on display until January 1st.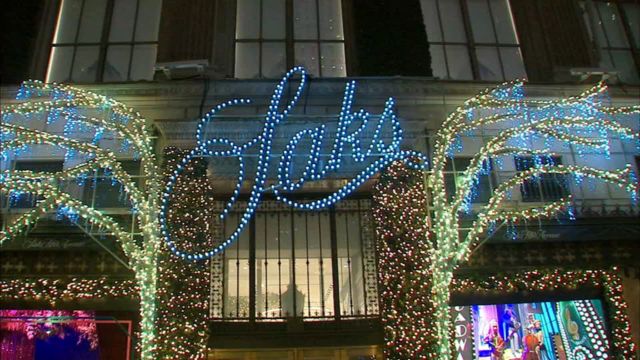 Each storefront has its own theme and is exquisitely decorated with lovely lights and garlands. All of them appear to be true art installations, drawing tourists from far and wide. Some of them show funny wintry sceneries, while others tell fascinating stories.
4. Rolf's Has Your Dose of German Christmas Magic
Rolf's German Restaurant is the place to go this December in New York if you enjoy substantial Bavarian food and extravagant Christmas décor.
See More:
This renowned location in Gramercy Park transforms into a festive attraction in and of itself when it is decked out with glistening decorations, adorable antique dolls, and more than 100,000 lights.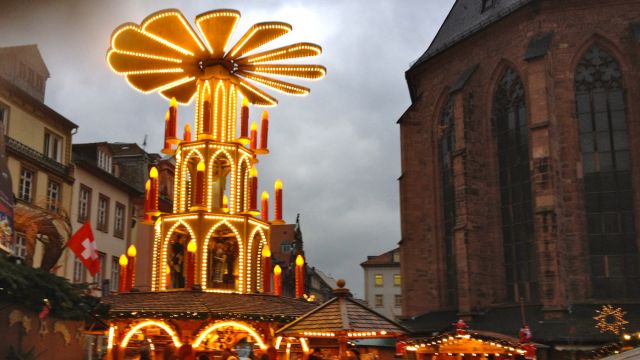 Even though there may be a huge line outside and the meal is expensive, the lovely, picture-perfect experience you have there is well worth the trouble.
5. Spectacular Dyker Heights, Brooklyn, Holiday Decorations
NYC vacations in December aren't complete without a stroll through Dyker Heights, the city's most festive district. Over 100,000 people come to this Italian-American neighborhood in southwest Brooklyn every holiday season to take in the brilliant, colorful display as each home is decked out in lavish Christmas lights and ornaments.
Life-size nativity scenes, toy soldiers, enormous inflatable Santas, and even merry holiday music will be featured alongside the extravagant displays.
There are many guided tours available to select from if you want to explore the neighborhood, whether you want to enjoy the beauty of it all from the luxury of your bus seat or simply stroll past the beautifully adorned homes with hot cocoa in your hand.
6. At the Bank of America Winter Village in Bryant Park
The Bank of America Winter Village at Bryant Park, one of New York's most popular Christmas destinations, is bursting with holiday cheer all day. There isn't anything you can't do in this winter wonderland in Midtown Manhattan, from a spin on the ice to seasonal shopping and rinkside dining.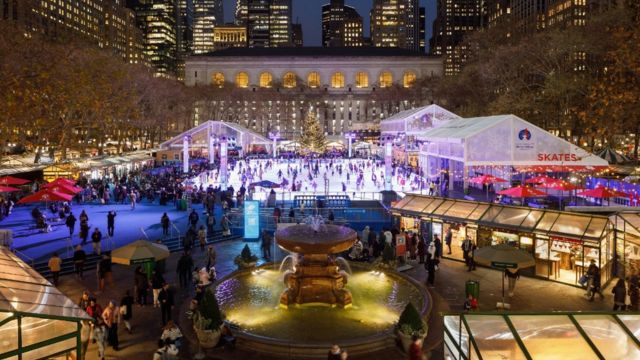 Visitors are kept pleased and entertained by a winter market with food and artisanal shops, and a huge Christmas tree and carolers add to the festive ambiance.
7. Watch the Times Square Ball Drop on New Year's Eve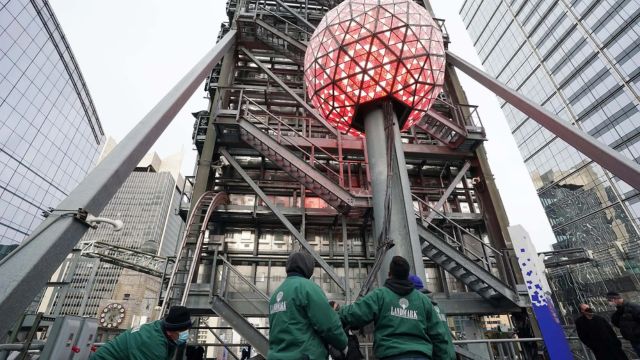 Times Square is always a spectacle, but in December it becomes much more so as the season's charm and the area's dazzling neon lights work together to make people feel festive.
See More:
The season comes to a close with the infamous New Year's Eve ball drop, which attracts more than a million spectators to Times Square. One of the best free activities in New York City may be had by including a lot of live music and cultural acts, balloons, confetti, and a beautiful fireworks show.
8. Book a room at The Peninsula New York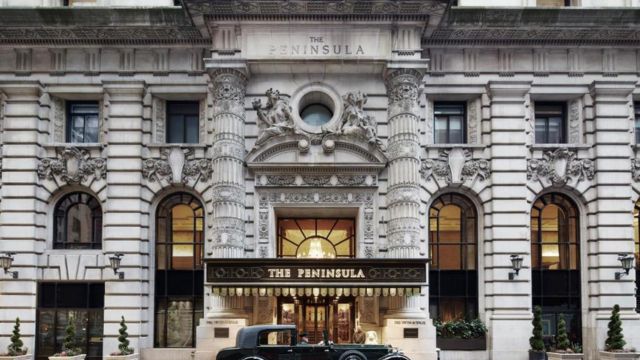 There are many wonderful hotels in the Big Apple, but if you want to experience the true magic of the city around Christmastime, stay at The Peninsula New York. This 5-star hotel is one of NYC's greatest Christmas hotels thanks to its excellent location directly on Fifth Avenue, gorgeously decorated Neo-classical exterior, and alluring seasonal packages on offer.
Sleep in one of the festively decorated apartments, complete with gingerbread playhouses and Christmas movie libraries, before stopping at the chic Gotham Lounge for an afternoon tea with a holiday theme. You can also eat a four-course Christmas dinner at the on-site Clement Restaurant while listening to Victorian carolers.
9. Visit the holiday markets
There is no denying that NYC is a year-round shopper's paradise with everything from independent boutiques to fashion outlets to fantastic department stores. However, be sure to visit the city's attractive seasonal fairs and markets for the best Christmas shopping experience.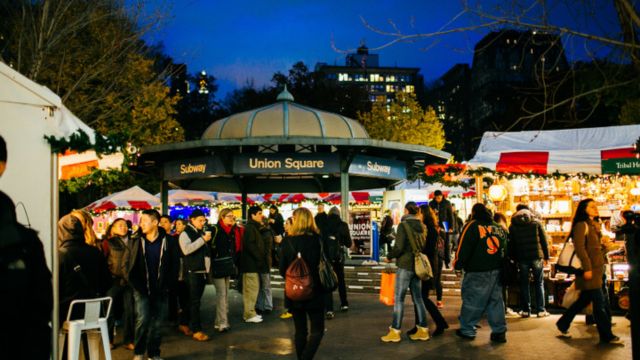 The Christmas markets at Bryant Park's Winter Village, Grand Central Holiday Fair, and Union Square Park are some of the largest and most well-known in New York City. Each is packed with one-of-a-kind artisan goods, winter accessories, Christmas tree decorations, and gourmet food and drink.
10. See The Nutcracker
The Nutcracker is a holiday tradition for all New Yorkers, young and old, and there are innumerable renditions of it on display in the city all through the season.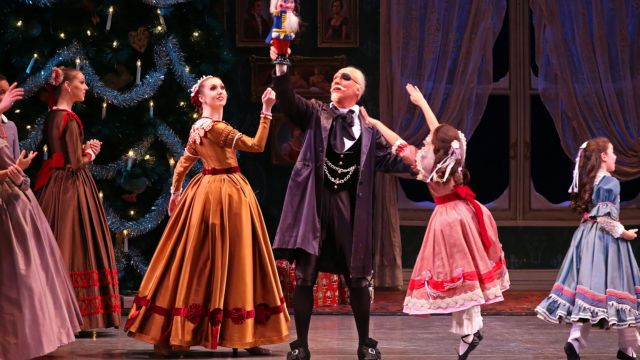 George Balanchine's magnificent production, presented annually by the New York City Ballet at Lincoln Center, is hailed as one of the best Christmas events in NYC. It is a captivating 2-hour show with exquisite dancing, sumptuous costumes, and elaborate visual effects – all wrapped in Tschaikovsky's sensational music.
Conclusion
December in NYC during the holiday season is a romantic and lovely time. Snow has the ability to cover the city and spread festive pleasure.
The Christmas Tree at the Rockefeller Center glows brightly, the winter markets are open, and the ice rinks encourage you to skate. You still have Christmas in New York, which is why the city is decked out in festive décor and lovely holiday lights.