The Finger Lakes region of central New York is widely regarded as a utopia for anyone who enjoys being outside. The region is home to a number of huge state parks, such as Watkins Glen and Taughannock Falls, and it features some of the finest hiking routes and most breathtaking waterfalls in the state.
In addition, the glacial lakes in the region provide opportunities for activities such as boating, fishing, and other water sports. Those who have a passion for wine will be pleased to learn that this region of the state is abundant in wineries and wine trails.
While history enthusiasts will appreciate seeing the Harriet Tubman National Historical Park, the Corning Museum of Glass, or the George Eastman International Museum of Photography, families will have a great time at the Strong National Museum of Play.
The Best Places to Visit in Finger Lakes
Spending time in this magnificent region will be a wonderful experience for you, whether you choose to unwind at a hotel or explore the many worthwhile tourist attractions, such as museums and quaint little stores.
Organize your trip to the Finger Lakes Region of New York with the help of our list of the top things to see and do in the area.
1. Discover the Beauty of the Natural World at Watkins Glen State Park
Watkins Glen State Park is the place to go if you want your next photo to have a backdrop that is worthy of being posted on Instagram. This natural splendor, which has been referred to as the "most famous of the Finger Lakes State Parks," is stunning.
Although it is only two miles long, this overachieving fantasy encompasses a verdant forest, 200-foot cliffs, and 19 waterfalls all within its verdant confines.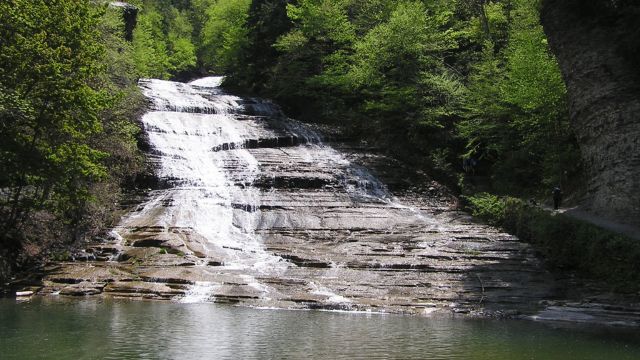 The park has a multitude of routes that wind their way through it, and even hikers with little experience will enjoy them. The Gorge Path is consistently ranked as one of the most traveled. It passes over, behind, and in front of waterfalls, offering breathtaking vistas with very little physical exertion required to experience them.
The Rim Trail provides the most breathtaking views of the gorge. A word of advice from those in the know: when it rains, the pathways may become slippery, so use caution.
2. Ithaca's Buttermilk Falls State Park
A waterfall is far from being an uninteresting natural feature, and this is especially true when one is observing the breathtaking cascade at Buttermilk Falls State Park. There are ten waterfalls within the park's boundaries.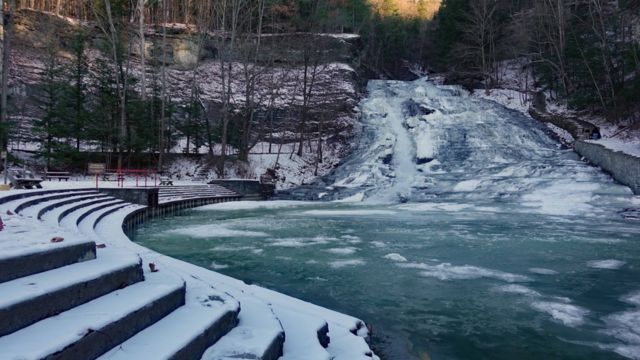 The most magnificent is Buttermilk Falls, which is also the namesake of the park and falls peacefully into Cayuga Lake, which is considered to be one of the nicest lakes in New York.
See More:
Buttermilk Falls is conveniently positioned only off a route that is set close to the parking area, which is ideal for visitors who prefer not to do strenuous and time-consuming climbs in order to view waterfalls.
3. Portageville, Letchworth State Park, in a hot Air Balloon
There aren't many activities that can compare to the allure of gliding through the air in a hot-air balloon while hovering high above a mighty waterfall as it plunges down a breathtaking valley.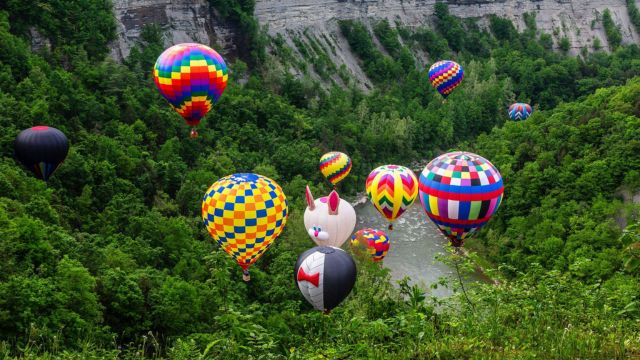 Even though these once-in-a-lifetime opportunities aren't exactly inexpensive (we're talking about close to $1,600 for a private, one-hour trip for five), they are among the most enjoyable things to do in the Finger Lakes Region.
4. Seneca Falls is home to the Montezuma National Wildlife Refuge
Birdwatchers who frequent the Montezuma National Wildlife Refuge, please raise your binoculars! The expansive Montezuma National Wildlife Refuge can be found right in the middle of one of the busiest flight zones of the Atlantic Flyway.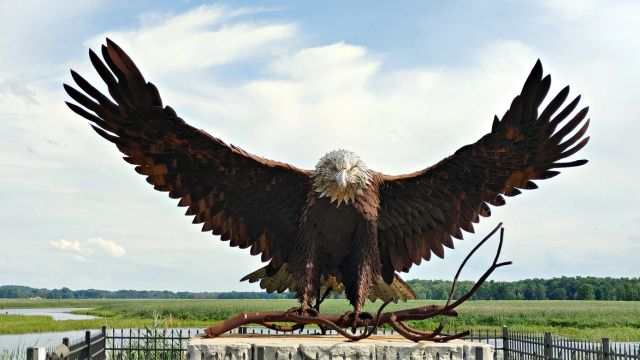 There is a very high likelihood that you will come across a diverse collection of fascinating animals because Audubon has designated it as an Important Bird Area.
Turtles, bears, muskrats, and birds are just some of the fascinating animals that you might see in this area. Take your time as you make your way carefully along Wildlife Drive, a route that is 3.5 miles long and is ideal for anyone who wants to see a wide variety of animals.
5. Have an Exciting Time at the Greek Peak Mountain Resort in Cortland
You are going to absolutely adore your time spent at Greek Peak Mountain Resort if you are an enthusiastic fan of excitement.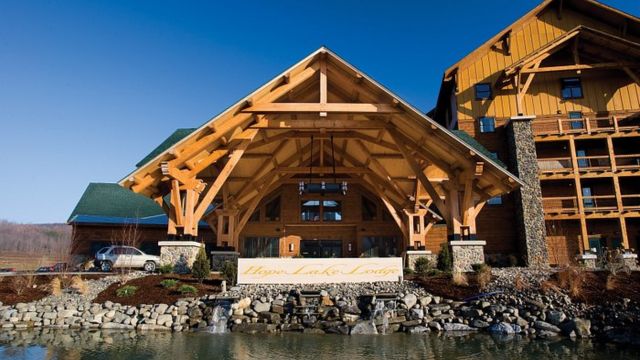 Their outdoor Adventure Center includes everything you could desire for a fun-filled day that the whole family will enjoy, including a wide variety of exciting activities and attractions for you to choose from.
6. Canandaigua's Bristol Mountain Ski Resort is a Great Place to Go Skiing
There is absolutely no reason not to go skiing or snowboarding if you are fortunate enough to spend the winter in the Finger Lakes region.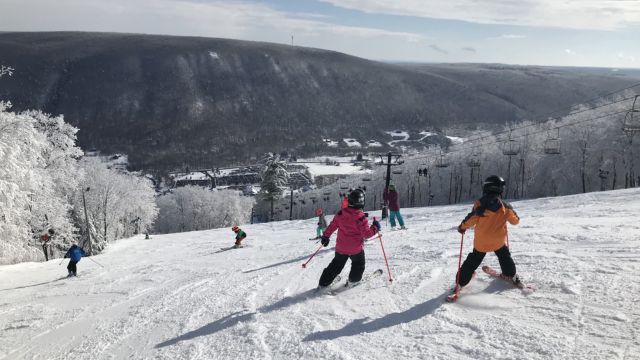 One of the most enjoyable things to do in the state of New York is to spend some time at Bristol Mountain, which is regarded as having some of the best skiing and snowboarding terrain in the state.
This 138-acre ski resort is a popular destination for people who enjoy participating in winter sports because it is known for having the biggest vertical climb (1,200 feet) between the Adirondack Mountains and the Rocky Mountains.
7. Ithaca's Robert H. Treman State Park is the place to go to See the Falls
Robert H. Treman State Park is a destination that you simply must go to if you have a passion for waterfalls. This park encompasses a total area of 1,000 acres and is regarded as one of the best spots to go sightseeing in the Finger Lakes region.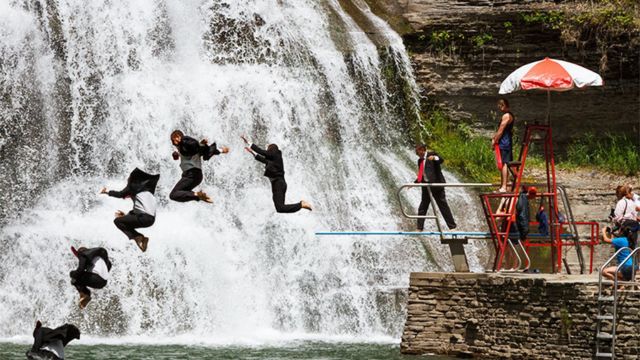 It is home to a total of 12 breathtaking waterfalls. Visitors must not miss the 115-foot-tall Lucifer Falls and the incredibly craggy Enfield Glen Gorge.
8. Spend the Night Under the Stars at Taughannock Falls Campground in Trumansburg
There are many wonderful resorts to choose from in the Finger Lakes Region; nevertheless, there is nothing quite like drifting off to sleep while looking up at the night sky.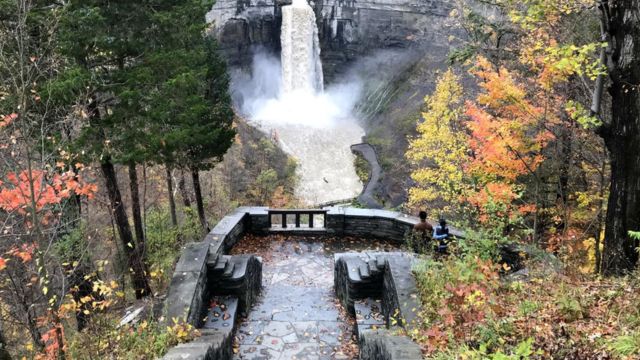 It is exhilarating to set up camp (or connect up your RV) at a location that cannot be topped in terms of natural splendor, which is perhaps why so many people choose to go camping in the enchanted Taughannock Falls State Park close to Ithaca.
See More:
You don't like living in the wild, do you? Don't be concerned. Those who would rather not tent camp can stay in one of the park's cabins instead.
9. Skaneateles, New York's Skaneateles Lake, is a Great Place to Go Swimming
What is a vacation to the Finger Lakes without doing anything related to the water? Canoeing, sailing, kayaking, and fishing are just a few of the activities that may be enjoyed on the lake at Skaneateles (which is pronounced "skinny-atlas"), New York. There are also plenty of opportunities to fish.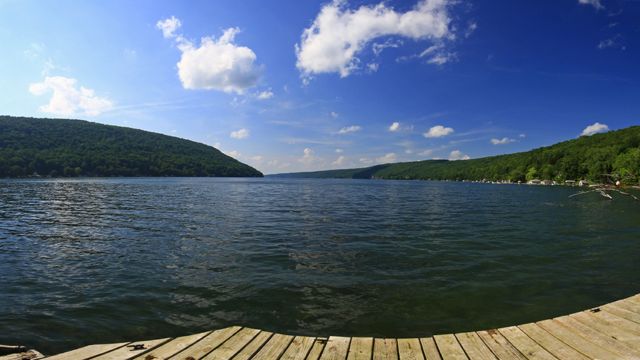 Skaneateles is a charming town that features a network of natural trails, delectable restaurants, unique shops, and even a lavender farm, all of which provide a wealth of opportunities for recreation.
Spending some time on the shimmering lake, on the other hand, is by far the most enjoyable way to spend a day in this refuge located in the northeastern region of New York.
10. Visit the Harriet Tubman Home in Auburn to Take a Step Back in Time
In January of 2017, the Harriet Tubman National Historical Park was officially opened to the public. The historic house of Harriet Tubman, an escaped slave woman whose bravery and tenacity helped her bring almost 70 enslaved individuals to freedom before the start of the Civil War, is the most popular destination for tourists in this area.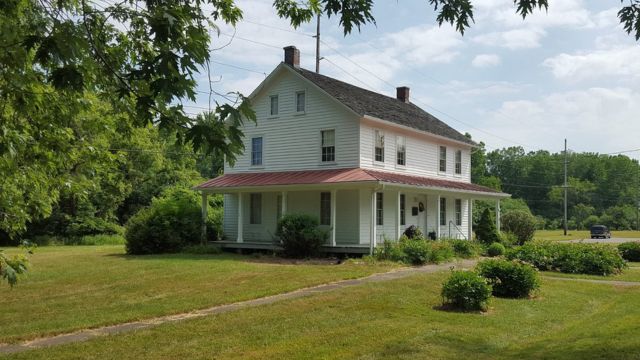 Harriet was a political activist who was a hero abolitionist and later worked as a spy and scout for the Union Army during the Civil War.
Conclusion
The region of New York State known as the Finger Lakes is mesmerizing throughout all of the state's four distinct seasons. You'll never run out of exciting things to do in the Finger Lakes, whether you're looking to go on a trek behind a waterfall in the spring, swim in a freshwater lake during the summer, take a drive to see the colorful fall colors in the fall, or ski down mountain slopes in the winter. There's something for everyone to enjoy here.
The region known as the Finger Lakes is home to 9,000 square miles of breathtaking scenery (think: undulating hills, plunging waterfalls, and deep, rocky gorges), and it gets its name from the eleven long lakes that are spread out like fingers across this region in the center and northwest of the state.