Between Padre Island National Seashore, the world's longest unspoiled natural barrier island, and Port Aransas, Texas's fishing capital, Corpus Christi is ideally situated. Outdoor enthusiasts are drawn to the region's natural beauty and the beaches of Corpus Christi.
Long stretches of soft sandy beach offer an outdoor playground for activities like horseback riding, fishing, surfing, and simple family amusement like constructing sandcastles close to the waves.
Mustang Island and the Padre Island National Seashore are the two most stunning assets in the Corpus Christi area. Both locations have beautiful beaches with a sizable footprint and amenities that let you spend the entire day by the water.
Best Places to Visit in Corpus Christi
Corpus Christi offers a wide variety of tourist activities to keep you busy during your holiday, including museums and the SEA District entertainment district downtown, which features a vibrant nightlife and waterfront dining.
Read our list of the top attractions in Corpus Christi to find out more about the many tourism options in the area.
1. Padre Island National Seashore
The world's longest undeveloped barrier island, Padre Island National Seashore, sits south of Corpus Christi and measures 66 miles from end to end. For anyone visiting Corpus Christi, this is a must-see.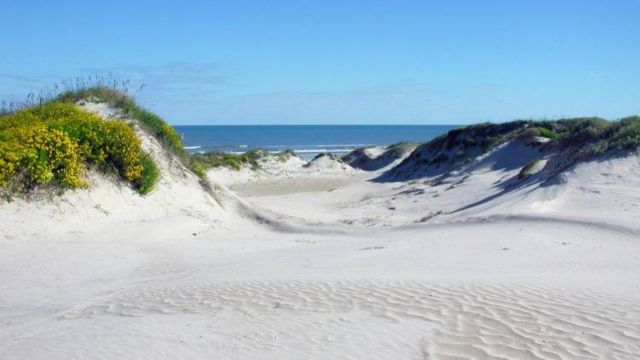 It is managed by the National Park Service and comprises just 2% of the 13 million acres of Texas and Louisiana's coastline that was once covered by natural environment.
2. USS Lexington, The Blue Ghost
Any trip to Corpus Christi should include a stop at the enormous aircraft carrier USS Lexington, which was commissioned in 1943 and played a significant role in the Pacific theater of World War II.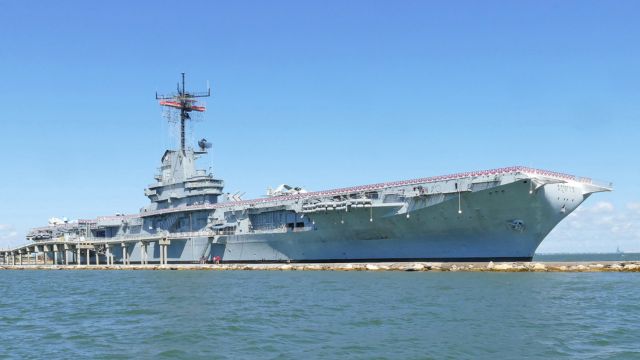 The Japanese claimed to have sunk "The Blue Ghost," which is now a naval museum, but she later turned up in action somewhere else. The moniker "The Blue Ghost" refers to the ship's dark blue camouflage.
See More:
A tour's highlights include the opportunity to view a variety of vintage aircraft and get a close-up view of the command deck and quarters. The attraction's sizable collection of intricate scale models, simulators, and games, as well as the thrilling Fighter Pilot 3D movie in the Mega Theater, are all noteworthy features.
3. Aranas National Wildlife Refuge
About 50 miles north of Corpus Christi, on the Texas Gulf coast, is the 70,000-acre Aransas National Wildlife Refuge, which is definitely worth a day trip.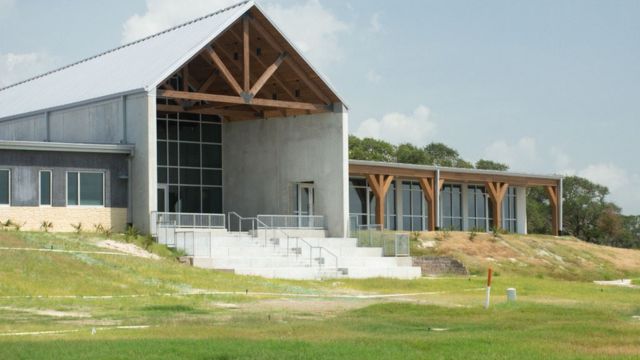 Alligators, snakes, and countless other species of birds also call the broad tidal flats, salt marshes, grasslands, and freshwater ponds of the refuge home. It was created as a winter habitat for endangered whooping cranes.
4. Texas State Aquarium
The Texas State Aquarium in Corpus Christi offers interesting details and entertaining exhibits on the abundant marine life present in the Gulf of Mexico.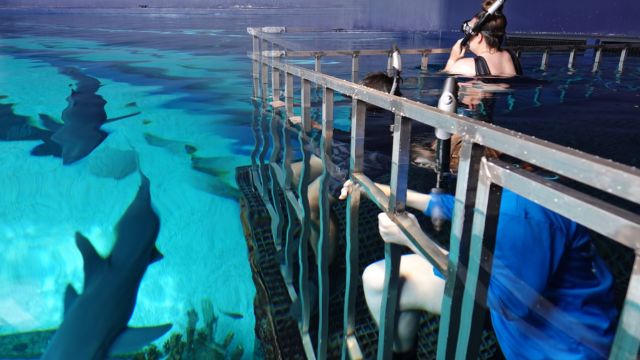 The Living Shores exhibit, which features one of Texas's largest touch pools as well as exhibits related to the Laguna Madre (a body of water in the center of Corpus Christi), is particularly fascinating.
5. Take a Beach Walk
The beaches of Corpus Christi are among the greatest on the Texas Gulf Coast. There are many alternatives to find something that works for your timetable, and there are more than 100 miles of beaches to select from.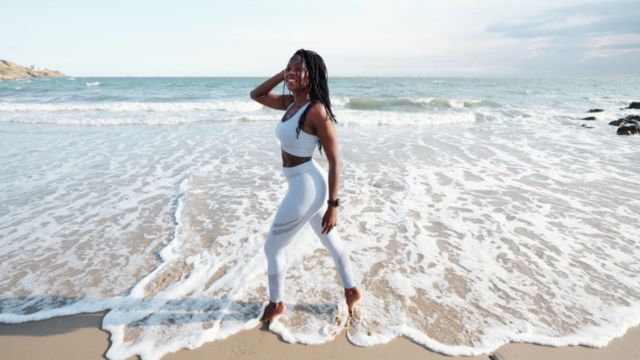 North Beach, which is close to the USS Lexington, and McGee Beach, which has a pedestrian walkway next to it, are two excellent options if you're staying in the city's center of Corpus Christi.
6. South Texas Botanical Gardens and Nature Center
The South Texas Botanical Gardens and Nature Center, which features a first-rate orchid house and a lovely hibiscus garden, is a wonderful place to take in nature's vibrant floral richness.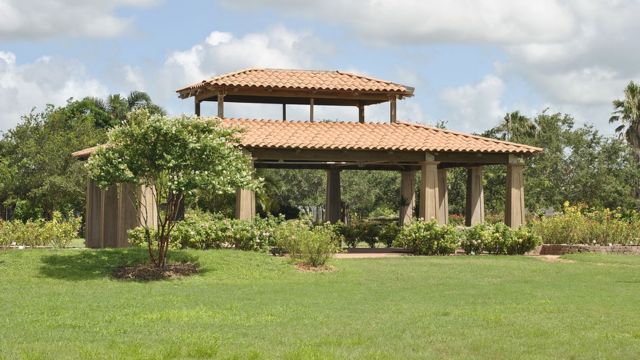 A sensory garden, strolling walkways, and seats are all features of the center's park-like architecture.
7. Golf
The temptation of scheduling a tee time for golf while on vacation is increased by the Corpus Christi backdrop of palm trees swaying in the ocean breeze. There are enough of both on the public course at the OSO Beach Golf & County Club.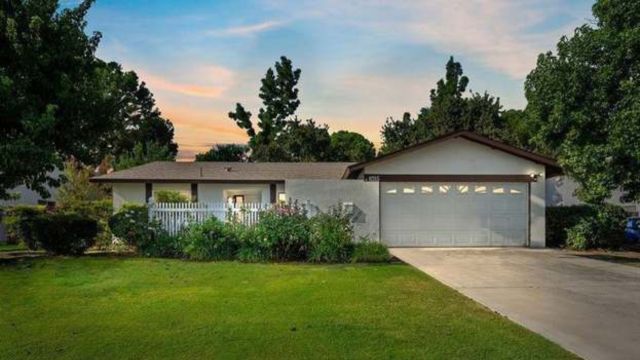 Although the course is played on flat ground, there are palm palms, bunkers, and lakes all around the fairways. Just south of the downtown area is where you'll find the 18-hole golf course.
8. The South Texas Art Museum
The Art Museum of South Texas, one of Corpus Christi's main cultural destinations, is housed in a gorgeous, contemporary building on the city's waterfront.
See More:
The institution presents a broad and varied program of lectures, workshops, and visual arts exhibitions with a focus on the region's multicultural past.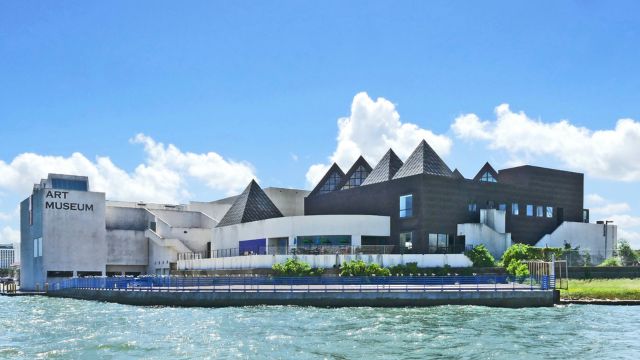 The interactive areas, such as the Arcade Interactive Space for children and the Digital Studio, where you can see art being created, are a special feature of this art museum. Make sure to stop for lunch at Elizabeth's Cafe, which has a view of the bay.
9. Park at Mustang Island State
With its tall sand dunes and classic beach experience, Mustang Island is one of the most well-liked locations along the Texas Gulf Coast. One of the simplest places to enjoy it is at Mustang Island State Park. The state park's five miles of beaches make it an excellent place to see native animals like sea turtles and blue herons.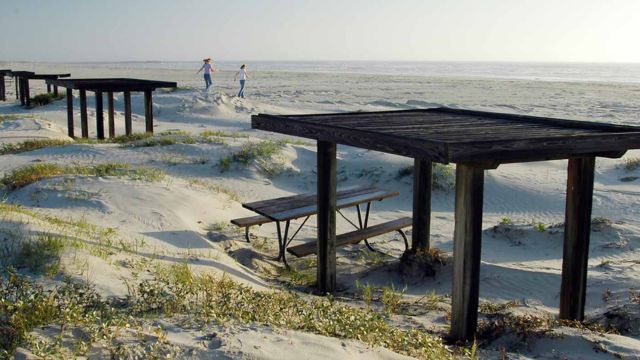 This beach is ideal for day trips and for combining with other activities including kayaking, hiking, bird watching, and fishing. The state park's roads are ideal for picturesque drives, especially at dusk.
10. Corpus Christi Museum of History and Science
The Corpus Christi Museum of Science and History offers a variety of exhibits linked to the cultural and natural history of South Texas that are equally entertaining for adults as they are for children. A children's area, local reptile exhibits, and shipwreck cargo are some of the specific things worth visiting.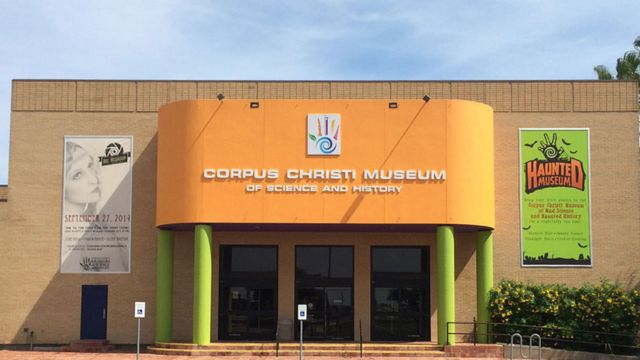 The museum's impressive collection of antique carriages, its exhibits on the native cultures of the region, and its examination of the ecosystem of this huge coastal area are all interesting features. There are also entertaining educational programs offered, like as outings to nearby natural areas and wildlife sanctuaries.
Conclusion
In the capital of the Gulf Coast, surf like a Texan. Unleash your adventurous side by windsurfing, parasailing, and kayaking out on the sea while exploring Corpus Christi's nine distinctive beaches. Want to find inspiration outside?
Famous tourist destinations like the Texas State Aquarium and the USS Lexington are also located in Corpus Christi. Tex-Mex and seafood restaurants in Corpus Christi are particular standouts among the city's diverse eating options, and regional chefs can even prepare your catch of the day.