Fitbit has become incredibly popular among those who are interested in fitness in today's generation. Fitbit is regarded as one of the greatest brands of fitness trackers, although on occasion, problems like the Fitbit screen going blank have been observed by customers.
You've come to the correct place if you've been complaining about your Fitbit Versa's screen going blank and then not turning on again and wondering why your Fitbit Versa 2 won't turn on. Here are a few reliable methods for turning on Fitbit Versa 2/3.
Part 1: Reasons Why My Fitbit Versa Won't Turn on
Many Fitbit Versa owners regularly ask themselves, "Why won't my Fitbit turn on?" Well, there are a number of possible causes for this kind of problem, some of which are rather common.
Reason 1: Drained Battery
A dead battery is the most frequent reason your Fitbit Versa 2 won't turn on. Fitbit Versa batteries can last for three to four days when fully charged, however, this isn't always the case. Your Fitbit may not come on and display a black screen if your battery is old and not properly charged, or it may suddenly run entirely empty.
Reason 2: Charger Issue
Even when the Fitbit Versa is hooked to the charging wire, problems may still occur if the charger you use for it is malfunctioning or broken.
Reason 3: Software or System Issue
Sometimes, specific software issues might also cause your Fitbit to not switch on. If your Versa's FitBit OS version is out of the current, it might become unreliable and malfunction. If none of the aforementioned explanations seem to be the cause of your Fitbit's inability to power on, there may be a hardware issue.
Part 2: How to Fix Fitbit Versa Won't Turn on?
Now that you know the reason why your Fitbit screen isn't turning on, let's go over some fixes that will help you figure out what to do when your Fitbit doesn't turn on.
Tip 1: Charge Your Fitbit Versa
As previously stated, the most frequent reason your Fitbit displays a blank screen and won't turn on is a depleted battery. Your device may turn off until its battery has to be charged again if it is not charged for an extended period of time. To turn on the Fitbit Versa, all you need to do is attempt charging the watch and wait until the battery is completely charged.
The battery on the Fitbit gadget can be rather old and has to be changed if it is still entirely blank and unresponsive.
Read More: Best Ways to Fix Calls Failing on Your Phone?
Tip 2: Check Your Fitbit Versa's Charger
Occasionally, if your Fitbit Versa won't turn on, there may be a problem with the charger. The Fitbit blank screen or black screen will appear on your watch and it won't charge at all if any portion of the charger, such as the cable or adapter, is spoiled or broken.
You can try charging your watch with a different Fitbit Versa 2 charger to make sure your current one is functioning properly. Give it half an hour or so before checking. Should the issue continue, it might not be related to the charger you are using. On the other hand, you should get a new charger if you can successfully charge your watch with a different one.
Tip 3: Clean the Charging Port
Your watch's charging port may gather a lot of dust and debris over time. This hinders the watch's ability to charge, which increases the risk of it shutting off entirely.
You should properly clean the charging port and then attempt charging the device if you think this is the source of the issue. An earbud can be used for the same purpose.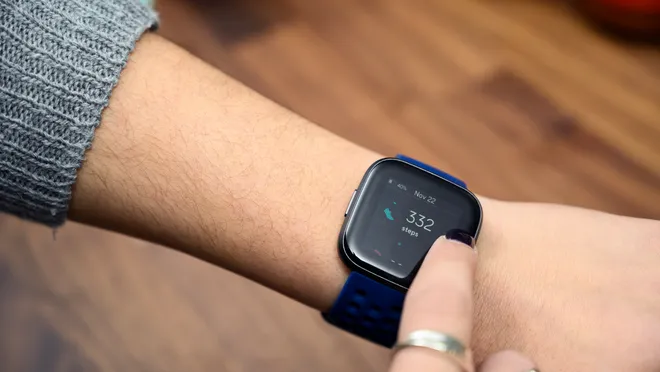 Tip 4: Restart Your Fitbit Versa
Restarting your Fitbit Versa is another quick and simple solution for the issue of it not turning on.
Press and hold the Back and Bottom buttons on the Fitbit Versa until the Fitbit logo appears on the screen.
All Fitbit Versa 2/3 and Fitbit Versa Lite Edition users need to do is gently press and hold the Back/Haptic button for ten seconds. Hold it down until the logo appears on the screen.
Tip 5: Factory Reset Your Fitbit Versa
You will need to factory reset your Fitbit Versa if none of the aforementioned fixes seem to be able to fix the issue of it not turning on. One method to possibly fix faults on your watch is to do a factory reset but note that this would remove all of the data on it. For this reason, before doing a factory reset, make sure that your data is synchronized with your Fitbit account.
Use the instructions below to reset your Fitbit Versa to its factory settings.
For around 12 seconds, hold down all three of your watch's buttons.
Release just the bottom right button when you see the Fitbit logo on the screen, and hold down the other two buttons until you feel a significant vibration. The factory reset will begin as a result.
You'll see that the gadget boots and displays the configuration in a few seconds.
Verify if the issue still exists.
Read More: Fix Not Getting Emails on iPhone!
Tip 6: Contact Fitbit Support for Help
If none of the aforementioned fixes work to fix the Fitbit screen not working issue, hardware may be the problem. In order for Fitbit support to identify a solution, you will need to get in touch with them and fully explain the problem you're having. Fitbit won't turn on problem will be resolved at no cost to you if your watch is still under warranty.
FAQs about Fitbit Versa
Q1: Is it possible to use the Fitbit Versa without a phone?
Fitbit Versa can be used without a phone, yes. It is not necessary for the watch to be synchronized with a smartphone. Its data may also be synced with a Windows 10 PC. It is not possible to use some services, such as SMS or phone notifications, in this manner, but it is still a useful tool for tracking activities.
Q2: What is the battery life of the Fitbit Versa?
The Fitbit Versa can run on a single charge for four or more days.
Q3: How can I restart my Fitbit Versa once it has shut down?
After shutting down, press and hold the Back and bottom right buttons on your Fitbit Versa for approximately ten seconds, or until the screen displays a logo. Your Fitbit Versa will switch on as a result.