When does season 5 of Fargo come out? Fargo, which was based on the same-named Coen Brothers movie, has been a hit with crime fans since it premiered in 2014. The anthology series has been about crime groups, betrayals, cover-ups, and a lot of killings over the years.
Fargo has proven to be one of the best thriller TV shows out there, with great acting and twisty stories that definitely live up to the movie. We did some research of our own in preparation for the next episode of one of the TV shows.
What's the Fargo Season 5 Release Date?
When does Fargo season 5 come out? It will be on FX on November 21, 2023, at 10 p.m. ET/PT, and you can watch shows on Hulu the next day.
In February 2022, Eric Schrier, President of FX Entertainment, said that season 5 had been approved and that author Noah Hawley and producer Warren Littlefield were excited to keep making the hit crime show. There are no signs of slowing down yet!
Who's in The Fargo Season 5 Cast?
Juno Temple, Jon Hamm, Joe Keery, and Jennifer Jason Leigh are the main actors in Fargo season 5. She is best known for her work on Ted Lasso, one of the best comic shows on Apple TV Plus. After playing Don Draper on the Emmy-winning TV show Mad Men, Hamm became a big star. And Keery is, of course, a fan favorite from the Stranger Things group.
Finally, Leigh may be known to movie fans from her role in Quentin Tarantino's "The Hateful Eight," for which she was nominated for an Oscar, or from her most recent TV show, "Atypical." You can see that it's a great group of people that fit with Fargo's style. Dave Foley and Lamorne Morris are two more group members. Foley will play Danish Graves, Lorraine Lyon's (Leigh) main assistant who became a billionaire on her own.
Here's the Full Fargo Season 5 Cast List:
Juno Temple as Dorothy "Dot" Lyon
Jon Hamm as Sheriff Roy Tillman
Jennifer Jason Leigh as Lorraine Lyon
Joe Keery as Gator Tillman
Lamorne Morris as Deputy Witt Farr
Sam Spruell as Ole Munch
Dave Foley as Danish Graves
Richa Moorjani as Deputy Indira Olmstead
David Rysdahl as Wayne Lyon
Jessica Pohly as Agent Meyer
Nick Gomez as Agent Joaquin
Lukas Gage as Lars Olmstead
What's Fargo Season 5 Be About?
The story of Fargo Season 5 is about Dot Lyon (Juno Temple), a woman from the Midwest who is on the run from the police and has a secret past. In this scene, North Dakota sheriff Roy Tillman played by Jon Hamm, his son Gator (Keery), and a wanderer from the area named Ole Munch (Spruell) show up.
Deputy Indira Olmstead (for Moorejani) and Deputy Witt Farr (for Lamorne Morris) are also called in. Roy looks for Dot because her husband (Rysdahl) and mother-in-law Lorraine (Leigh) also don't seem to be with her.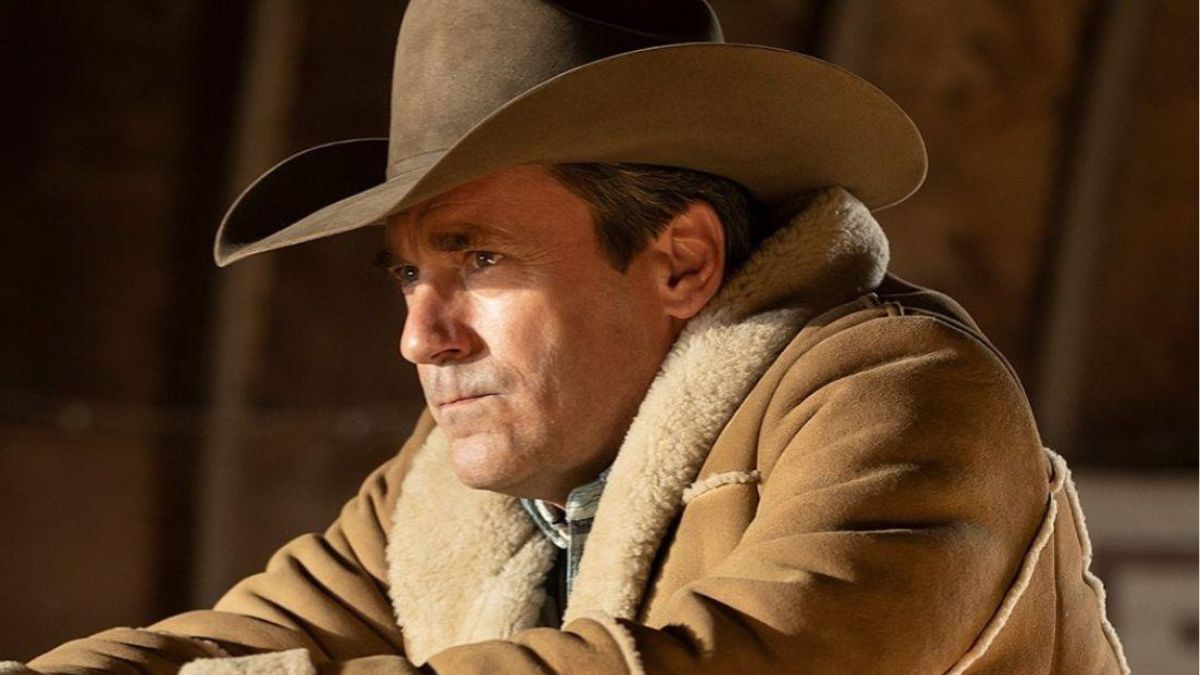 Lorraine, who runs the largest debt collection service in the country and has had doubts about her daughter-in-law in the past, hires Foley as a lawyer to help Dot avoid the law because she doesn't know what crimes she may have committed.
Read More: The Real Housewives of Miami Season 6 Release Date: What We Know So Far From Plot To Cast?
Is There a Fargo Season 5 Trailer?
On September 26, 2023, the first teaser for Fargo season 5 came out. On October 25, 2023, a full video followed. The first teaser took place in a small restaurant. Jon Hamm walks around the room, taking in his surroundings, without saying a word. He even steals someone's bacon right off their plate. As more people see him, he stops, turns around, and asks, "Who do I have to kill to get a coffee?"
The full trailer (below) showed a lot more about what the new season will be like. It looks like Dot from Juno Temple lived through a house break-in and killed the thieves herself. (Definitely a different take on one of the best parts of the first movie.) The next part looks like a cat-and-mouse game as she tries to hide her dirty secret while the police are after her.
Where Can I Watch Fargo Season 5?
From November 21, 2023, onward, you can watch Fargo season 5 every week at 10 p.m. ET/PT on FX. The next day, you can view episodes on Hulu.
You'll have to wait for Channel 4 to show it in the UK. Fans from both the UK and the US can also buy all of Fargo's past seasons on Amazon Prime Video.